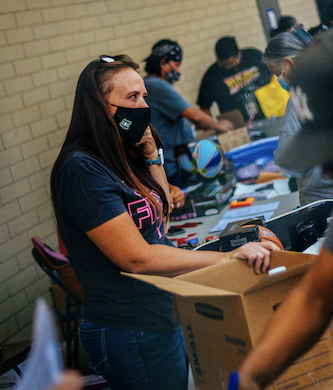 WSARC Distributes 100 Cleaning Kits at Summer Jam
Aug 25, 2021
The White Swan Arts and Recreation Committee gave out 100 cleaning kits at this year's Summer Jam. Each kit included bleach, hand soap, dish soap, rags, scratcher pads, laundry soap, a spray bottle, tooth paste and tooth brushes, cleaning wipes, lice shampoo, and a $20 gas card.
"We wanted to offer a little something to help our families as we move into fall and winter," said Shawna Young, White Swan Arts and Recreation President. "Getting cleaning supplies in as many hands as possible is one way to do that."
White Swan Arts and Recreation partnered with the Community Coalition to organize the event. "We were excited to see so many community members and were overwhelmed with the support we received from our partners," said Julie Schillreff, Coalition Coordinator.
In total, fifteen community organizations were present to offer information and resources, and representatives from all three local law enforcement agencies joined the event. Washington Beef donated hamburgers and hot dogs, Molina Health Care donated water, and the White Swan Trading Post donated a $50 gas card.
"We couldn't have done it without our partners," Schillreff said.